Yale Virtual Postdoc Recruitment Event
Welcome prospective postdoctoral scholars!  Thank you for your interest in the Yale Virtual Postdoc Recruitment Event! 
This event will take place on May 5 at 12pm Eastern Time on Zoom and engages scholars interested in pursuing postdoctoral training at Yale University. Our goals are to support potential postdocs in their career exploration and identifying next steps, engage with potential postdocs from underrepresented and historically excluded groups, and increase awareness of the experience of and resources supporting Yale postdocs.
Thank you for your interest in the event – registration is now closed and the event completed.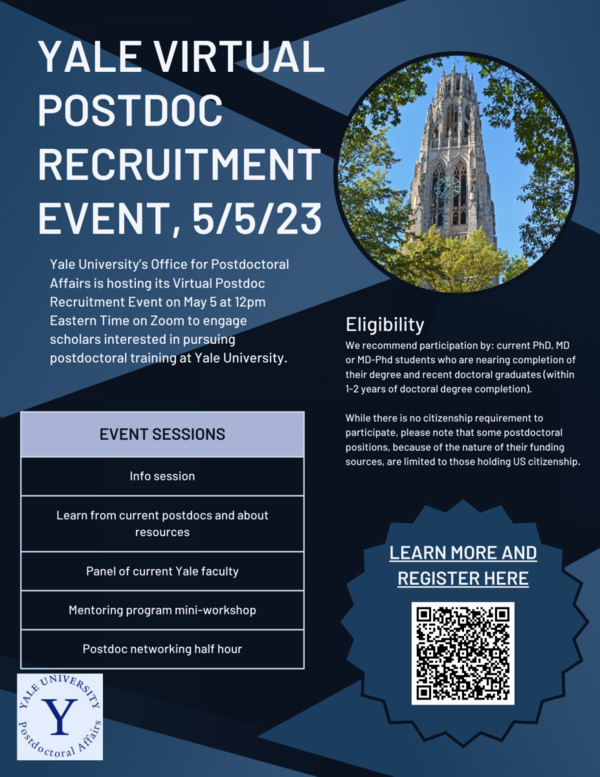 Yale Postdoc Spotlight
Click below to hear from Yale postdocs about the kinds of work they do and advice they have for current and prospective postdocs.
Dr. Aileen I Fernandez, Postdoctoral Associate in Yale School of Medicine's Pathology department.
Dr. Thang Le, Postdoctoral Associate at Yale School of Medicine's Psychiatry department.
Dr. Danielle Raad
, Cullman–Payson Fellow in the Education Department of the Yale University Art Gallery.
Acknowledgements:
Thank you to the Chicagoland Diverse Postdoc Recruitment Event organizers for providing guidance and inspiration for the planning and execution of this event!
This event is informed by the Belonging at Yale initiative.
Yale University acknowledges that indigenous peoples and nations, including Mohegan, Mashantucket Pequot, Eastern Pequot, Schaghticoke, Golden Hill Paugussett, Niantic, and the Quinnipiac and other Algonquian speaking peoples, have stewarded through generations the lands and waterways of what is now the state of Connecticut.  We honor and respect the enduring relationship that exists between these peoples and nations and this land.